Guide to Punting in Argentina
Jump to navigation
Jump to search
Overview
Argentina is a country located in the southern half of South America. Sharing the bulk of the Southern Cone with Chile to the west, the country is also bordered by Bolivia and Paraguay to the north, Brazil to the northeast, Uruguay and the South Atlantic Ocean to the east. Argentina is the eighth-largest country in the world, the fourth largest in the Americas, and the largest Spanish-speaking nation.
Getting in and out
Most flights come to Terminal C, the newest terminal and with the newer technology. Several taxi companies provide transport; their sales windows are next to each other and it is worth comparing their prices as they may not all be the same. 1450 pesos to downtown is the standard rate at the time of writing.
A Shuttle bus (Tienda Leon) runs at busy times from around the corner outside Terminal A. It costs around 400 pesos to the new bus terminal at Corrientes/Madero, as opposed to 1450 pesos for a taxi.
Note that Palermo and Recoleta (upmarket areas where many tourists head for) are some distance away from downtown. The middle of downtown, next to the famous obelisk, is called Microcenter (think, Tottenham Ct Rd, Piccadilly Circus). Most things you can imagine you need are within easy walking distance in Microcenter as it's also the city's business centre, – things like Cambios (currency exchange), cafes, restaurants, chemists (including a couple that will sell Viagra and generics over the counter at good prices). It also has the best transport links to other parts of the city. Retiro is another area that is a bit more upmarket but still close to Microcenter.
Getting around
Taxis are quite cheap but the Metro (Subte) can sometimes save time. Get a free card from a tourist office (show passport). Top up with 90 pesos cash at a kiosco (corner store / 7-11) that shows the Sube sign. See: argentina.gob.ar/sube
Challenges
Safety. Tipping. Buenos Aires is fairly safe if you stick to the main tourist areas such as Microcenter, Palermo, and Recoleta. In other areas, including San Telmo, be normally aware, for instance of pickpockets by day, and most people favour taxis for late at night. Beware that Argentina is prone to frequent strikes – which can also affect the airport. Tipping is not mandatory even for taxis but is appreciated. You are likely to get better service for instance if you tip hotel staff (housekeeping, reception, bell-boys) in advance. The tip doesn't need to be much – even 100 pesos (about £2) but is greatly appreciated.
Changing money. ATMs will work out rather expensive and tend to have constricting upper limits. The best rates are from Cambios, many of which can be found along Calle Florida in Microcenter. Rates vary from one to another (further north from Corrientes you go tends to be better the rate). There are also many street hustlers there offering 'cambio' services but they are unregulated, so unless you are very familiar with the currency you may not be able to tell genuine from fake
Punting overview
Buenos Aires used to be many people's standards the finest punting city in the world for its luxurious brothels and high class service incredibly low prices, as well as respectable part timers openly offering their services. Since the president changed most of that has changed. Nearly all the brothels have been closed down. Massage parlours are still a good stand-by but not all offer extras or full-service. A recommended parlour (current at time of writing) is Armony: http://www.armonyspa.com/.

One or two clubs are frequented by SPs, either exclusively or mixing with civvies. The main one still open at the time of writing is Newport.

There are many areas with street-walkers (SWs; varying quality, honesty and reliability) who will take you back to a short-time hotel (short time can vary from half an hour to all night). It's still legal, but the unofficial clamp down has made things difficult. Hence there is a large population of SPs offering business but less openly. One punter had exceedingly good results using Seeking sugar-daddy website.

== Venues==
Newport is the main standby. It's in front of the Recoleta Cemetery across from McDonald's. Dimly lit bar where the SPs hang around outside and inside most hours but especially late at night. Round the corner from Newport is a string of bars and restaurants, most civvie nightlife, but it will become clear by sticking your head inside which ones encourage SPs.

Other venues include two on Suipacha (they're only visible late on mostly after midnight). It's usually necessary to buy the SP a drink to show you are serious. Prices are from about 1500 pesos up – which is about the same as the nearby SWs or the massage shops. Except for massage shops, you will also have to fork out for a short time hotel unless taking her back to your hotel or apartment.

For Microcenter SWs, start outside Cafe Exedra around midnight and either wander up Pellegrini (where there's also a rather garish late night SP bar) or along Cordoba and up Suipacha.

Rougher and cheaper are the SWs near the stations, Plaza Once or Station Constitucion. Contitucion is the main railway station and long-distance terminal (not Once Station). It's a beautiful pink stone building in a trashy area. Directly opposite is the sparkly modern building which is an entrance to the Metro (Subte) at the end of Line C. An easy circuit for beginners is to face the railway station as if coming from the Metro building and go to the right. Follow the road along the side of the train station. There are hygienic-looking adjoining the station and a very working-class mall on your right. Take the first right. Even in the daytime you are likely to see hookers standing there quite obviously. In the evening the street livens up with several low-class bars with loud music and it is an ok street to hang out in if you are exceedingly BsAs-style streetwise, otherwise, like the whole area, it is generally regarded as to be avoided at night. Carry on around the block. Less well-lit streets go in various directions if you want to explore between here and the next Subte stop but at your own discretion. The whole area of Constitucion, other than the main railway station and its immediate cafes etc, is considered dangerous by most people. The present reviewer found it safer than Once/Miserere as it easier to watch your back. It also has the cheapest hookers (most are ugly but occasional youngish gems (18-25) can be spotted). The area abounds in very cheap transitorios (some post their rates outside, which is helpful in case she suggests somewhere overpriced). Others prefer Once/Miserere (greater numbers, fewer complete uglies, higher prices).

For latest advice you can also try Argentina Private (which is an extension of ISG).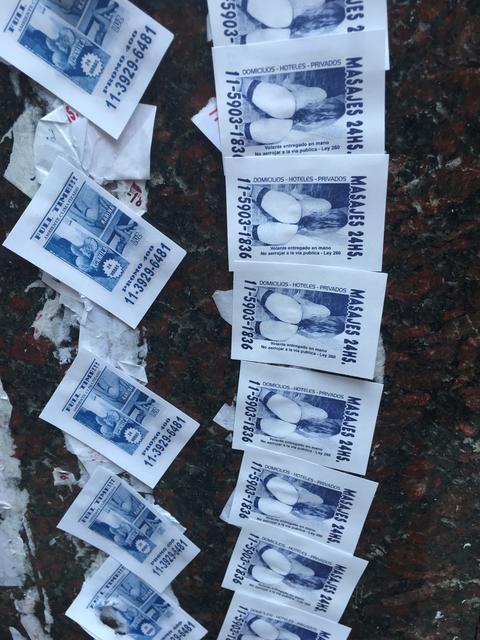 Typical flyposting of 'massage' numbers to call is common along Corrientes & Florida streets.

A couple of nightclubs with SPs worth a try:

NewPort - Recoleta district

Cocodrilo - Palermo district

Cities overview
Threads on UK Punting