Guide to Punting near Airports
Jump to navigation
Jump to search
Punting near Airports
We have all had a 1 hour layover that turns to 4. Is this enough time to get into the city for a punt?
GOOD
Amsterdam
Schiphol. Overlooking the poor vfm at the windows, can be OK. The train is probably 15mins, then 10-15 walk to the RLD.
Berlin
https://www.ukpunting.com/index.php?topic=249975.msg2562125#msg2562125
Brussels
Orientation Belgium uses a confusing mixture of French, Flemish and English, so it's helpful to make a note more than one when looking for place names.
From the main Airport: Trains from the main Brussels Airport (Zaventem) are very good. Up to six 'Brussels Airport Express' trains an hour connect the airport to Brussels North, Brussels Central and Brussels Midi stations, as well as other Belgian cities. Journey time is 17 minutes to Brussels Central Station, a bit less to Brussels North Station ('punting central'!). Check that your flight is arriving at Zaventem not Brussels Charleroi as some cheap airlines do, and which is three times as far to downtown Brussels!)
Train Location at the airport: Main Terminal, before security, Level -1.
Punting next to Brussels North Station starts from around 10am. E50 gets pumpndump & a couple of positions. (40E seems to be the minimum).
Brussels North is the stop before Brussels Central (you get off then go to the left hand side from direction of train travel).

SWs 1.Rue D'Aerschot by main trainstation, Brussels du Nord.40€ bj+1 position.
2.Lakensestraat / Rue de Laeken & adjacent streets.SWs on corners (15m walking from Nord or 10m by bus) From middle of Adolphe Max, turn right along Rue Saint Michel- Rue de Cirque for 3 blocks (5mins walk).
3.Boulevard Adolphe Max - in the centre... 24/7... about 40€ plus 20€ hotel. Nearest metro: Rogier (2mins MIVB tram from Nord). Some trannies. Possibly dodgy. Lower end. 15mins walk from Brussels du Nord/Rue D'Aerschot.
4. Avenue Louise has best SWs 100-euros an hour by some, and 200 by others. Not that many during cold days, and mostly Romanians. (Metro Louise, but a long street). 10m by train from Rogier.
Studios a bit further afield. Studio Europe for instance is about 10m or so walk from Aersch, turn right at Starbucks / Rogier Station, then go left at t'Genot onto Pelican, then first right onto Sint-Jans Nepomucenus (the street has several different names, Google calls it Commercants, which is the name from the other end). Studio Louise is now called Studio Europe (wasn't open yet when I last looked, probably too early in the day, but a massage joint opposite was. )
old map from another website: http://www.amsterdam-red-light-district-maps.com/Brussels.html
Unless it's a long layover, Rue D'Aerschot is the fastest and has the most choice. From the airport train station you could in theory be there, punt and back in about an hour, though it's best to leave a little extra time!
There are many threads on UKP about Rue D'Aerschot. Just type in Brussels to the search engine there.
Edinburgh
From the Airport, get the 'Airlink 100' bus to the city terminus (which is next to Waverley Station) for Blair St Sauna.
Or get the tram to the last stop (York Place) for Newtown or London St saunas. The venues are only about 5 minutes walk and there are usually several girls on. Use googlemaps ('saunas near Edinburgh'). Pay the entrance fee at reception and then pay the girl for (standard) services.
LSS: from the tram stop, go down the hill (the one at right angles to the tram) and you'll see the basement as you turn left at the roundabout at the bottom. The smaller NTS is a couple of minutes away. https://london-street-sauna.business.site http://www.newtownsauna.com/
BSS: go up the hill, cross over the main st (Royal Mile) and carry on a few yards and it's on your left, marked 'sauna'. https://www.blairstreetsauna.co.uk/

For reviews of individual girls, search UKP for'BSS' or 'LSS'. The bus takes 30 minutes. The tram takes about 40. If you want to go by taxi, the fare will probably be about £20-£25.
Frankfurt
Useful words:
Central station: Hauptbahnhof
Airport: Flughafen
Please: Bitte
Thank you: Danke
How much?: How much. (whores speak this much English!)

Where?
10-20mins train to central station then Kaiserstrasse area (30€) walk ups.

Quickie guide for total newbies ...
A day ticket from the airport costs €8.50.
Go out of the main station entrance. You should see a central area with taxi rank and tramlines in front of you. Cross over or use the pedestrian subway. Taunusstrasse runs from the centre away from the station. Kaiserstrasse and Niddastrasse run parallel. Walk one short block along Taunusstrasse and you are in Eros Centre land. Walk into any building marked Eros Centre (or similar) and view the ladies standing or slouching in open doorways on each floor. When you see what you like, negotiate and do the business.

Comme ça:
exit station, cross over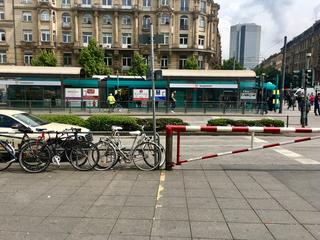 go down here: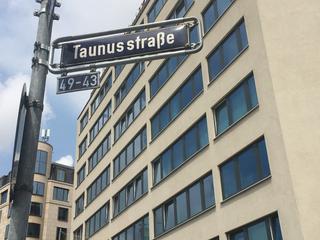 to here:


pop in here for a shag: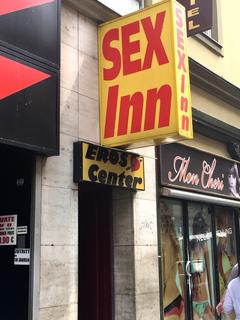 (or any of the other unmistakable venues immediately nearby)

wipe dick, board train back to airport
(don't forget to write a review on UKP)
Geneva
Fast train into central station, cross over one block and to the left and it's short-time hookerville. Daytime ones very pleasant and polite, meet on the street and go upstairs to a decent pad. Nighttime a bit more wary and prices go up. Downside (apart from not that heap) is that Geneva isn't a major hub, but still worth noting if it happens to be on the way somewhere. But nothing is cheap in Switzerland.
Singapore
Pop any luggage into an airport locker then get a taxi to nearby Geylang for evening activities. Cruise the venues (all tend to be ground floor), view the choice of girls, stop when you see one you like.
BAD
All of USA
Charles de Gaule / Paris
Other tips
This can be a reason to check luggage through. Why have the stress of cramming bags on the plane anyway to save 10 min on your arrival?
See Also threads on Airports